StoneBrook Winery is the wine division of Walter Farms. The Walter Farm has been a family business since the mid 1800's, providing substance and income for the family. It has evolved and changed operational character over this time to maintain economic viability.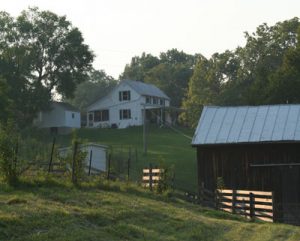 On the 1871 farmstead a stone building was constructed to house a blacksmith shop. This shop produced and repaired all the metal hardware needed by local farmers. Along with the myriad of metal parts produced, wagons were also manufactured. This included coaches, surries, freight wagons, hay wagons, run abouts, etc. There was quite a local demand for Walter built wagons in the late 1800's. Of all the vehicles built at this blacksmith shop, only two hay wagons remain on the farm today.
The agricultural enterprises of the farm have also changed over the last 134 years. Pigs, truck crops that included vegetables and fruits were once part of the farming operation. With the demise of the blacksmith business in the early 1920's the farm's economics turned to dairying.
The dairy operation phased out in the mid 1950's and the farm's business turned to raising beef cattle. Presently the farm's operations include beef cattle, forages, commercial vineyards and a winery.
The farm has two farmsteads. The original built in 1871 has several buildings constructed out of fieldstone by German craftsmen. Several of these buildings including the main house remain functional today. The other farmstead that was part of a division of the farm was built in 1890. This farmstead remains much as it was in the late 1800's.
Today, the 1890 era house has been remodeled into a winery and tasting room. And the out buildings provide a glimpse into the lifestyle of the early inhabitants. Many of the tools and household items used in the late 1800's are on display in the tasting room.